As a client, it should feel like your birthday every time you walk into Salon Lumen, because everyone working here knows that clients are the stars of the show. If you are ready to learn how to deliver an amazing customer experience alongside seasoned professionals, you have come to the right place.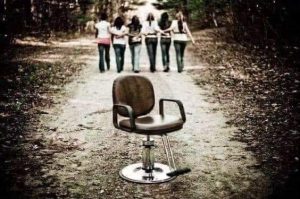 Working side-by-side daily, and in weekly training sessions, you will learn everything from the ins-and-outs of color theory and using hair to change perceived face shape, to the proper way to shampoo, scalp massage, gloss condition, and apply color.
You'll learn to do a full consultation with over-communication, how to choose colors that are complimentary for your client, different highlighting techniques, Brazilian Blowout, Japanese straightener, hair extensions, evolve hair solutions, microdermabrasion for the scalp, permanent waves, updos, and more.
We've all started somewhere and we know it's not easy to start out at a new place.
Like everyone here, you should expect to do anything and everything that makes the salon experience better for your customers. That includes greeting them at the door, bringing them a beverage, and treating them to a pleasant shampoo. But it also includes how you answer the phone, listening to your client's needs, and making them feel comfortable. It's not all glamour. A great customer experience includes keeping the salon clean, dusting and wiping down mirrors throughout the day, sweeping around chair bases, and making sure the bathrooms, trash, and laundry are always squared away.
You'll earn an hourly wage plus tips. Even though the salon is open Tuesday through Friday 9-7 and Saturdays 9-5, the current position will be Tuesday through Friday from 10-7 with a one-hour lunch and Saturday 9-5 with no designated lunch hour, but with frequent breaks.
If you are ready to make clients feel like the most important people in the world (because they are!), call the salon at (210) 558-3555 to setup an interview.