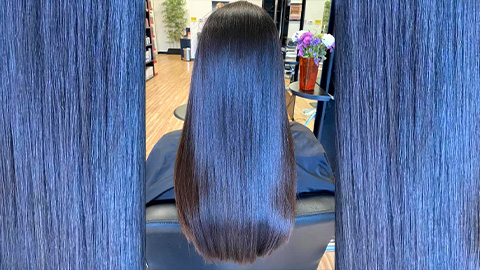 Do your unruly curls leave you wanting a dramatic new look? Get straight!
Sometimes a girl needs a lasting change. We've all been there. A Bio Ionic Japanese Straightening Treatment can get you moving into a completely new direction… straight. The change is permanent so it lasts until your hair grows out!
bio-ionic-japanese-hair-straightener-new
If you can't show up frizzy to your next big event, let our certified staff help you wow the crowd with your sleek new look.
What will Japanese Bio Ionic Hair Straightening do for you?
Just like straight hair can be permanently curled, now curly hair can be permanently straightened. Have the length, but hair too unmanageable for all those smooth-hair styles? Worse, does your hair get frizzy or curl when it's humid? Tired of the flat iron? This is a permanent solution.
What should you expect from your Bio Ionic Japanese Hair Straightener?
Expect an end to frizz and curling in humidity, because Bio Ionic Japanese Hair Straightener seals each strand, keeping moisture from seeping in and opening up the cuticle. Even when it is misting outside, hair will not frizz.
Expect your certified stylist to create a gentle transition at the scalp to prevent an uncomfortable hard bend at the roots.
Expect dramatically less time every day with the brush and blow drier… and no time with the flat iron!
Expect treatment to last four to six months, depending on how fast your hair grows out.
What options should you consider?
On the day of service, you can add Demi-Permanent Hair Color.
Permanent or Demi-Permanent colored hair is fine, but to avoid damage, it's not recommended to use a permanent straightener on hair that has been highlighted with lightener.
A Haircut on the day of service is highly recommended so you can get the most effective and dramatic effect from your treatment.
Want a less permanent but still beautiful solution? A Brazilian Blowout gives you frizz-free protection for your hair and lasts up to 12 weeks.
Guaranteed for Seven Days
Your stylists are trained and certified in these kinds of treatments to deliver the best consultation and service possible tailored to your needs. With quarterly in-salon classes for Master Designers, and weekly in-salon classes for Creative Designers and New Talent, your stylist is prepared to deliver a great customer experience… and we back up the work with a seven-day guarantee!
At Salon Lumen, we depend on your satisfaction to spread the word. We appreciate the opportunity to earn your business and look forward to delivering a delightful experience. If you are happy, please tell the world. If not, please let us know. Your complete satisfaction is our number one priority.