A little gray tells people that you know what you're talking about. Too much and they think you're outdated.
Let's get that properly balanced. Got snow on the mountaintop? Your cut with gray blending will have you rocking the boardroom with timeless style. Come in for the full treatment then go out and conquer the world!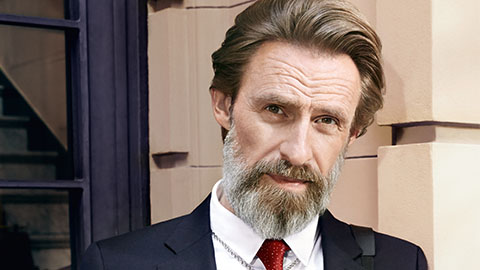 What will the right men's haircut do for you?
Looking your best helps you be your best. Right or wrong, a bad haircut stacks the deck against you and a great haircut stacks the deck in your favor. Is your hair thicker in one area than in another? Are swirls and cowlicks making your cut look less professional? Your Salon Lumen stylist will customize your cut and style for a sharp, blended haircut that is never stair stepped or blocky.
What should you expect from your men's haircut?
Every men's haircut includes a shampoo, scalp massage, haircut, style out, and detail.
Your stylist will listen to your input and evaluate face shape and hair to achieve the look you want for your lifestyle.
A crisp haircut depends on well-maintained tools: regularly sharpened shears, oiled between clients and fresh razors for each client.
Your stylist will check and re-check your haircut during style out.
Layers will be blended, not stair stepped or blocky.
Your hair will grow out gracefully, so you will get more mileage from your cut.
What options should you consider?
Hair looking dull? Demi-Permanent Shine Gloss has 67% more shine than untreated hair. Available in clear or color.
Dry, breaking hair? Deep Conditioning Treatment gives you intense strengthening and hydration.
Dry, crusty, or flaky scalp? Scalp Renew is microdermabrasion for the scalp, which needs to be taken care of just like your face.
Guaranteed for Seven Days
Your stylists are trained to deliver the best service possible tailored to your needs. With quarterly in-salon classes for Master Designers, and weekly in-salon classes for Creative Designers and New Talent, your stylist is prepared to deliver a great customer experience… and we back up the work with a seven-day guarantee!
At Salon Lumen, we depend on your satisfaction to spread the word. We appreciate the opportunity to earn your business and look forward to delivering a delightful experience. If you are happy, please tell the world. If not, please let us know. Your complete satisfaction is our number one priority.