Have a special style in mind? Enjoy the volume and length you want with top-quality human hair that perfectly matches your color and style!
Thinning hair? Nothing boosts your confidence like adding volume. Say goodbye to sticky tape. PerfecTress Hair Extensions are placed by your stylist and come out cleanly and easily.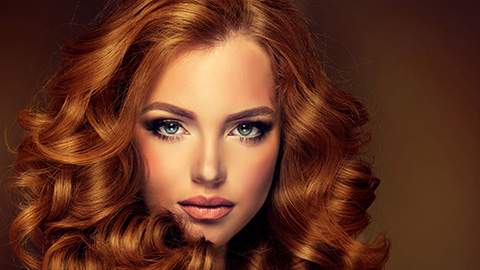 If you are ready for beautiful fuller and/or longer hair, PerfecTress may be right for you.
What will PerfecTress Hair Extensions do for you?
Your PerfecTress Hair Extensions will provide you volume and length for up to a year. You can sleep in them, wake up in them, and wash, blow dry, and style normally.
What should you expect from PerfecTress Hair Extensions?
Your PerfecTress Hair Extensions will last for up to a year. You should have them taken out and put back in every two to three months.
Just like your own hair, you can sleep with your PerfecTress Extensions and wash, blow dry, and style normally.
PerfecTress Hair Extensions cause no damage. They have tape wefts and transformation connectors. Tape wefts lay flat to the head and are larger sections of hair. Transformation connectors are smaller sections. They use aluminum metal that is softer than copper. They feed the hair all the way through the aluminum and around, so when installed it is hair-on-hair, not metal-on-hair.
What options should you consider?
Because PerfecTress is human hair, it can cost $1,000 - $2,500 plus stylist time to properly install them. The longer the hair, the more expensive.
Some people only need extensions in certain areas for density.
Going for length, you will probably need a full head so that it blends naturally.
You will need a Haircut to make sure the extensions blend naturally.
You can also Color, Highlight, Deep Condition and Brazilian Blowout on the same day.
The number one obstacle to PerfecTress extensions is the cost. If you have a special occasion, visit the salon for clip extensions that only stay in a day or two. They cost around $200.
Guaranteed for Seven Days
You won't have professional help when you get to your own home with your own lighting and styling tools, so the seven-day guarantee means your consultant will still be here to tweak your look and work with you on your plan for ongoing success!
You need to protect your investment with professional advice. Your Master Designer stays up-to-date with quarterly in-salon classes. Classes are weekly for Creative Designers and New Talent. And with Salon Lumen, you also have a Wella brand educator and Master Color Expert on staff!
Come in and meet the staff for your FREE professional consultation. Nothing happens until you are comfortable, you know what to expect, and you are ready to make a change.
At Salon Lumen, we depend on your satisfaction to spread the word. We appreciate the opportunity to earn your business and look forward to delivering a delightful experience. If you are happy, please tell the world. If not, please let us know. Your complete satisfaction is our number one priority.