Enjoy 67% more shine than natural hair.
Hair looking a little dull? Color need a touch-up? Whether you choose straight gloss or gloss depositing color, get ready for shiny vibrant hair. Best of all, it's healthy, like a smoothie for your hair! No ammonia and it fades after six weeks!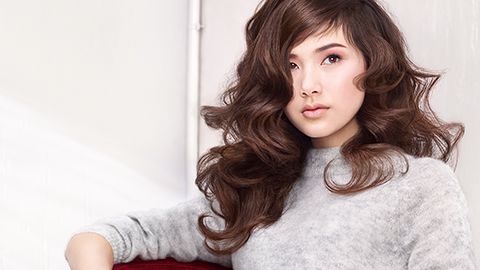 What will the right shine gloss do for you?
Besides giving you shiny, healthier hair, Hair Gloss can blend gray, refresh color, darken color and more. If you like the change, we can make it permanent next time. If you don't like the color, it will fade in six to eight weeks.
What should you expect from your shine gloss?
Is your hair color right for the season? Winter, Spring, or Summer, natural hair color changes with sun exposure, seasonal activities, and light. You can make a temporary seasonal change to make the most of the light and your wardrobe.
You can try a color before you commit to it.
Since it contains no ammonia, it will fade in six to eight weeks.
Expect more vibrant color.
Expect shinier, healthier hair.
If you add it to a Haircut, it's only $35.
What options should you consider?
With no ammonia and zero damage to your hair, it's healthy... like a smoothie for your hair!
You can go clear or add color.
You can get any other service on the same day, even a permanent wave, or a permanent straightener.
Dry, breaking hair? Deep Conditioning Treatment gives you intense strengthening and hydration. A Brazilian Blowout will seal your hair cuticle without damage for a smooth look that stays super straight for weeks when your bounce will start to return.
Just split ends? A Brazilian Blowout Split End Treatment last for four weeks and seals the cuticle for silky smooth hair to help your color and style last.
Four weeks not enough? A Bio Ionic Japanese Straightening Treatment will permanently straighten your hair until it grows out!
Dry, crusty, or flaky scalp? Scalp Renew is microdermabrasion for the scalp, which needs to be taken care of just like your face.
Guaranteed for Seven Days
If you've ever suffered through beautiful color… that was just wrong for your skin tone – or worse – if your hair has been damaged by mistreatment, rest assured you've finally found your forever, no-pressure salon. A shine gloss demi-permanent color gives you a chance to try your new color before you commit. You won't have professional help when you get to your own home with your own lighting and styling tools, so the seven-day guarantee means your consultant will still be here to tweak your look and work with you on your plan for ongoing success!
You need to protect your investment with professional advice. Your Master Designer stays up-to-date with quarterly in-salon classes. Classes are weekly for Creative Designers and New Talent. And with Salon Lumen, you also have a Wella brand educator and Master Color Expert on staff!
Come in and meet the staff for your FREE professional consultation. Nothing happens until you are comfortable, you know what to expect, and you are ready to make a change.
At Salon Lumen, we depend on your satisfaction to spread the word. We appreciate the opportunity to earn your business and look forward to delivering a delightful experience. If you are happy, please tell the world. If not, please let us know. Your complete satisfaction is our number one priority.